Simple tips for making Christian marketing more effective
As a new Christian, I used to think that marketing was something Christians didn't do. However, after I became a Christian entrepreneur, I realized two things. First, I had a responsibility to market my business if I wanted to attract customers and make money. Second, marketing doesn't have to be sleazy.
I know there are lots of Christians who think marketing is a dirty word and something to be avoided, but that's really the wrong way to look at things.
Think about it, without marketing, you probably wouldn't have heard of that book you love so much, or that vacation spot you keep going back to, or maybe even your church! And, that's not all, many of you are involved in marketing every day without even knowing it.
For example, what do you think you're doing when you recommend your doctor or dentist to someone else? How about when you recommend a school or your favorite restaurant? That's right! You're using word-of-mouth marketing which is one of the most common marketing strategies known to man.
I bet you didn't feel sleazy when you made those recommendations or referrals. You were happy to make them because you wanted someone else to receive the same care and experience that you had. You see, when you look at it like that, marketing seems like a good thing, and Christian marketing is no different.
Christian marketing is simply a way to reach a Christian or non-Christian audience depending on whether you're a church, Christian ministry, or business.
Okay, now, let's look at some ways you can use Christian marketing strategies to achieve your goals.
THIS POST MAY CONTAIN AFFILIATE LINKS. OUR FULL DISCLOSURE POLICY CAN BE FOUND HERE
7 Simple Ways Christian Marketing Can Be More Effective
1. SEE MARKETING AS A CALLING AND NOT AN UNPLEASANT TASK
"Go therefore and make disciples of all nations, baptizing them in the name of the Father and of the Son and of the Holy Spirit, teaching them to observe all that I have commanded you. And behold, I am with you always, to the end of the age." (Matthew 28:19-20)
Instead of seeing marketing as an unpleasant task, you have to do, start seeing it as an integral part of your ministry or business. Think of it this way, if you don't market your church or ministry, no one is going to know you exist (well maybe some people will, but you will limit the number of people you could potentially reach with your message).
I can count the number of times I have used the Internet to find a church after I moved to a different city or state. How did I choose the churches I visited? You guessed right! It was due to their marketing. I read the content of their websites and connected with some of them while I wasn't drawn to others. That's the purpose and power of marketing. Reaching people with your message.
When Jesus sent out the apostles, he knew there were people who would never hear the good news unless someone told them about it. He didn't want anyone to be left out. And today's Christians still have the same mandate. To make disciples of all men by preaching the good news of the kingdom.
So as you can see, Christian marketing can be a calling. It's something you have to do as part of your ministry or business, so embrace it.
I find it easier to do something when I am excited about it or at least when I see the benefit of doing it. As long as you view marketing as an unpleasant task or duty, you're going to keep struggling with it, and your marketing efforts may end up not being as effective as they could be.
So if you have a negative mindset about marketing, it's time to change that. Start thinking of marketing as a calling and a fundamental part of your ministry or business.
2. TRUTH SHOULD BE AT THE CORE OF CHRISTIAN MARKETING
There are lots of marketing strategies to choose from. Some of them can be very effective, but not all of them are grounded in truth.
As a Christian, you can't approach marketing the way a lot of people do. You can't misrepresent the truth or lie because you're trying to reach more people. Once you start using dishonest or unethical practices as part of your marketing strategy, it no longer qualifies as "Christian marketing."
So take a look at your marketing materials, your bulletins, radio or TV advertisements and website. Are you sending out the right messages? Do your messages convey the truth or have you exaggerated a few things to attract more people? You can't ask God to bless your efforts if you're engaged in practices that dishonor him.
I know it feels weird to say that honesty should permeate everything you do as a Christian. Sadly, not all Christians are honest. Yes, that includes churches, ministries, and business owners. But, Christian marketing must be different if you want to stand out and bring glory to God.
3. DETERMINE THE TARGET AUDIENCE
One of the reasons Christian marketing fails is because you're targeting everyone with the same message. For your marketing strategy to be successful, you have to first identify whom (or the group of people) you're trying to reach. When you identify your target audience, then it's easy to create a marketing strategy and plan to reach them.
Knowing your target audience allows you to tailor your marketing message to ensure the right people hear and respond to your message.
For example, if you want to start a morning Bible study for women, your target audience is probably stay-at-home moms and older women. Your marketing message could include things like "free childcare is available" because you know that some moms with young kids may be concerned about that.
Conversely, a marketing campaign targeting men or youths for a morning or evening Bible study won't need to include "childcare available" as part of their marketing message.
This goes for any marketing campaign you may be running. You must determine your target audience because as you can see, identifying them is one of the most important aspects of your marketing strategy, so don't overlook this in your planning.
If you need help creating a marketing plan for your business, grab a copy of our free Marketing Roadmap.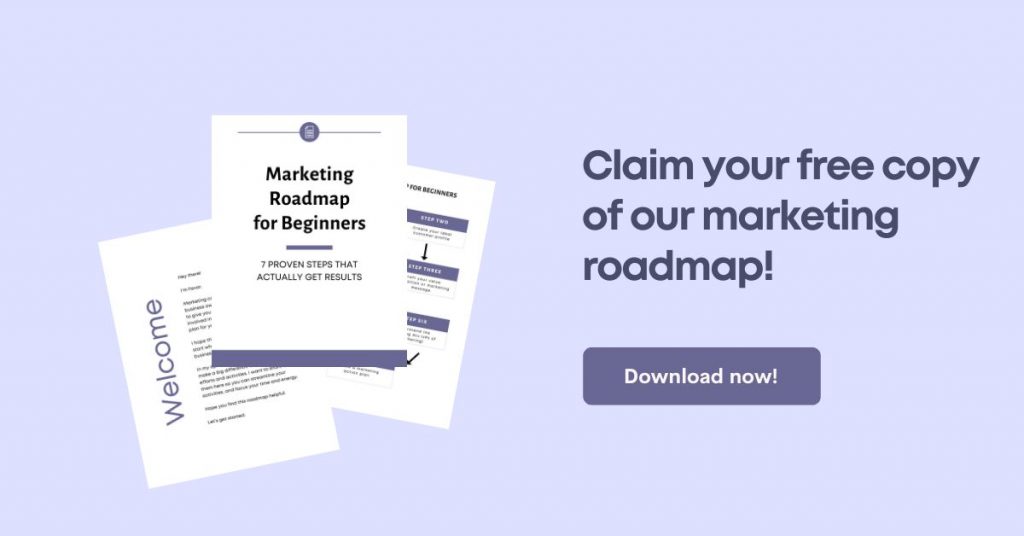 4. MAKE YOUR MARKETING PERSONAL
It's funny how you can read similar messages or content and one gets you excited while the other makes little or no impression on you. This is exactly what happens to most people when they come across your marketing content.
When people read your marketing content (by the way, your website content is part of your marketing) do they feel like you're talking to them or that you understand their needs or pain?
Are your messages full of generic words that have no real meaning to the people you are trying to reach? When people come across something from your church, ministry, or business, do they feel inspired or motivated to check it out? Or do they keep scrolling searching for something that resonates with them?
Don't underestimate the effect personalized marketing can have on your ministry or business. Adding a personal touch is a good way to make an emotional connection with your target audience.
While you don't have to go over the top, you can look for little ways to make your marketing a bit more personal. It can be as little as changing the language you use or using more positive language instead of negative language, as long as it's truthful.
There are lots of ways to add a personal touch to Christian marketing, so put on your thinking hat and get creative.
5. DON'T MAKE UNREASONABLE PROMISES
Far too often, I have seen people make promises they know they can't keep. This also applies to churches, ministries, as well as businesses. For your marketing strategy to be effective, you must deliver on your promise, that's why it's always better to under-promise, but overdeliver.
Be mindful of the type of language you use in your marketing content. Don't use language that creates unrealistic expectations because the last thing you want is for people to feel let down or deceived.
Don't make promises you have no control over. Limit your promises to things you can actually control. For example, you can control the start time of an event, but you can't control the effect your event is going to have on a person. So you can promise to start your event at 10 am, but you can't promise a life transformation at the end of your event, because you can't guarantee that. I hope this makes sense.
Sometimes, the language you use in your marketing can be misleading or confusing, so you have to be really careful of what you put out there. People don't like to feel exploited or that you lured them to your church or ministry under false pretenses.
I know I have felt let down a few times because a product or an event did not live up to its billing. Not like the events were bad or I didn't gain anything from them, but they weren't quite what I expected based on the promotional material.
Speaking of events, don't use a famous speaker to attract people to your event unless you're certain of their attendance. I have seen a few baits and switch at some Christian events. Maybe it wasn't intentional, and something did come up, but it's something I want you to be aware of.
As a Christian, your integrity is more important than having a few more people attend your church or event, or buy your products. So don't jeopardize your reputation for temporary gain or satisfaction.
6. USE THE RIGHT MARKETING CHANNEL AND MULTIPLE CHANNELS
"Give a portion to seven, or even to eight, for you know not what disaster may happen on earth." (Ecclesiastes 11:2)
To create an effective Christian marketing strategy, you have to use the right marketing platforms or channels to reach your target audience. There's a big chance the people you want to reach can be found on more than one platform, or consume content in more than one way.
Some people prefer video content while others like me, prefer written content. So you must learn to reach people in different ways and through different means if you want maximum exposure. Don't put all your eggs in one basket. Advertise on different channels and use different forms of content to reach people.
The possibilities are endless. It all depends on your marketing budget and how creative you want to be.
7. YOU NEED A CHRISTIAN MARKETING STRATEGY
I saved this one for last because I didn't want you to miss it.
It goes without saying that for your marketing strategy to work, you have to first create a strategy. There are lots of Christian marketing strategies to choose from, so just find what you're comfortable with and run with it.
Thankfully, I have a whole post on how to create an effective marketing strategy. Yes, the post says Christian business marketing strategy, but the tips in that post can be used by a church or other Christian ministry, so please check it out below.
Related: How to Create an Effective Christian Business Marketing Strategy
Conclusion of 7 Simple Ways Christian Marketing Can Be More Effective
Christian marketing can feel like a difficult task but it doesn't have to be if you have a plan. Just stick to the basics like applying biblical principles to your marketing, being consistent and honest, not making promises you can't fulfill, and targeting the right people with the right message.
This simple plan can be very effective, so go out there and give it a try. Remember to meet people where they are and be a solution to their problems. That's the main goal of marketing.
Do you struggle with your Christian faith and marketing?
Related Christian business advice posts
How to Create a Simple Christian Business Plan
How to Create an Effective Christian Business Marketing Strategy
Why You Need a Kingdom Business Plan and How to Create One